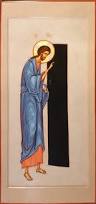 this icon was found on the internet, authour unknown at this time.
This is a blog chronicling my struggle with PTSD, BPD, and General Depression.  It's very personal....not a one fits all. The commonality is that I rely on Christ Jesus to heal me and that these disorders are some of the crosses I bear on my way to full healing and reconciliation with God.  I engage as an artist to express my feelings, and reactions to events around me, and even political events, but from an Orthodox perspective.  
I guess this will be like a daily blog....a morning blog. This blog is heavily guided by the writings of St. Theophan the Recluse, Time and Despondency, St. Seraphim, and St. John of Kronstadt, amongst others such as very importantly Elder Thaddeus of "Our Thoughts Determine Our Lives".  
May God Grant You Peace and Not Forget Me, either.